Nova Scotia Walk Day


Wednesday, May 10th

Where?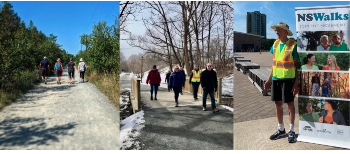 Communities across the Province

What is Nova Scotia Walk Day?
A FREE event celebrating how walking connects us to our communities and each other.

Why participate?
Enjoy the many physical, social and mental health benefits of connecting with members of your community in a gentle, friendly walk.
What is NS Walks?
A program for less active adults to enjoy the benefits of walking
Who are we?
NS Walks is a program of
Hike Nova Scotia
How can I learn more about NS Walks?
Visit the NS walks Join a Walking Group page by clicking
HERE
!
© Copyright 2023 Hike Nova Scotia, All Rights Reserved |
Privacy Policy
|
Contact Us
Promoting Hiking, Walking and Snowshoeing throughout Nova Scotia.