International Trails Day
Join Hike Nova Scotia in celebrating International Trails Day on June 3!
Hike Nova Scotia is pleased to announce the support of the Province of Nova Scotia in officially proclaiming Saturday, June 3, 2023 as International Trails Day!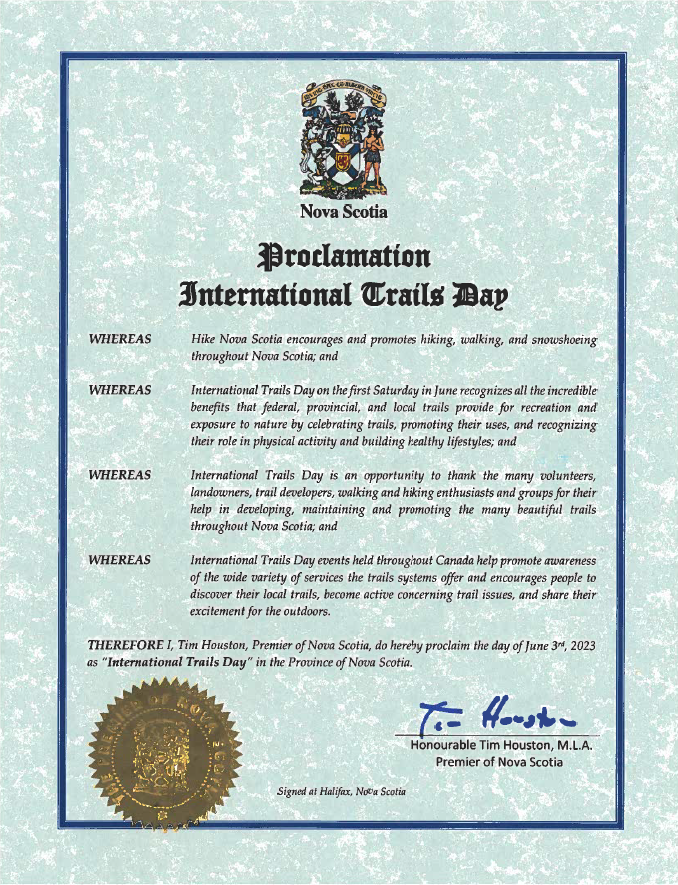 "International Trails Day, held on the first Saturday in June recognizes all the incredible benefits that federal, provincial, and local trails provide for recreation and exposure to nature by celebrating trails, promoting their uses, and recognizing their role in physical activity and building healthy lifestyles."
Click on the proclamation document above to view it in full.
We thank the many volunteers, landowners, trail developers, walking and hiking enthusiasts and groups for their help in developing, maintaining and promoting the many beautiful trails throughout Nova Scotia.
What Can You Do?
Hikers
:
Go for a hike on International Trails Day
Volunteer with your local community trail group
Donate to your local community trail group
Tell your hiking story on social media, tag Hike NS and qualify to win a free Hike NS t-shirt
Groups and Organizations
:
Host a trail event on International Trails Day
Invite people in your community on a guided hike
If your group manages a trail, hold a volunteer trail maintenance day
Post your event on social media and tag Hike Nova Scotia
Tag Hike Nova Scotia on social media
@hike.nova.scotia
on Instagram
@HikeNovaScotia
on Facebook
@HikeNS
on Twitter
#HikeNS #HikeNovaScotia
#ITD2023 #HikeNS_ITD
#InternationalTrailsDay2023
Find a Trail on AllTrails
(click the logo)
Remember when on the trails to respect
#LeaveNoTrace
principles.
Happy Trails!