Trail Maintenance Workshops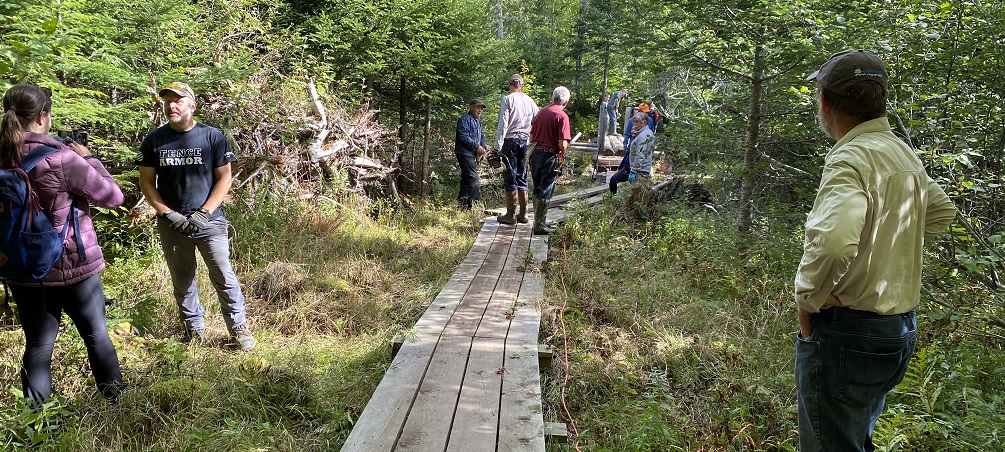 Hike Nova Scotia and its
Trail Builders Network
is happy to announce a series of trail maintenance workshops in 2023! The aim is to support hiking trail managers, especially in areas hardest hit by Hurricane Fiona. Priority will be given to community trail groups but others (municipalities, etc.) are welcome.
About the Training
This is a one-day training session on basic trail design and building with a focus on ongoing maintenance and repairs. Most workshops will feature a combination of formal classroom style teaching and infield hands-on training. Morning and afternoon snacks and lunch will be provided.
Schedule
We have a selection of workshops for you:
May 7: Pugwash
, Estuary House Trails
Training provided by TrailFlow
May 13: Antigonish
, Keppoch Mountain Trails
Training provided by TrailFlow
May 27: Town of Pictou
, Pictou Fitness Trail -
Cancelled
Training provided by TrailFlow
June 10: Sydney
, Coxheath Wilderness Trails
Training provided by TrailFlow
Oct. 28: Musquodoboit Harbour
, Musquodoboit Trailway Trails
Training provided by Mike Lancaster
For Valley and South Shore areas not included in this year's slate of workshops, don't worry! We plan to hold workshops in your region in 2024. The aim this year is to provide training in areas most affected by the hurricane. Also, there is another workshop happening May 1-4, 2023 in the Valley that might fit your needs.
Cost and Registration
Once you apply to attend, we'll connect with you about payment. Your registration is confirmed once we receive your deposit or fee.
Hike NS Member Nonprofit Groups: Free
Please note: A $25 deposit is required when registration is confirmed, which will be reimbursed after you attend. (Why? See * below).
Non-Member Nonprofit Groups: $25
Note: Not a member? Contact us about our current deal on new group memberships!
Hike NS Member Municipalities & Others: $25
Non-Member Municipalities & Others: $50
*If you register and then don't show up or cancel at the last minute, it will prevent others on a waiting list from attending. If this happens, your $25 deposit will not be refunded. We do this because we anticipate these workshops to be popular and want to ensure that all spots, which are limited, are filled. If you show up, the deposit will be reimbursed within a week after the workshop. You can transfer your registration to someone else if you can't attend, simply contact us at least two days in advance with the change.
Cancellation Policy
You may cancel your registration two full days in advance and receive a full refund. For example, to cancel for May 7, we must receive notice of cancellation by May 4. Cancellations with less than two full day's notice and no-shows will not be refunded. To cancel your registration, please
contact Hike NS
. By registering for a workshop, you acknowledge and accept this cancellation policy.
Supporters
Hike Nova Scotia thanks the NSLC For the Good of Our Community Fund for its generous support of these workshops. We also thank the Nova Scotia Department of Communities, Culture, Tourism and Heritage for its support of the Trail Builders Network.