Trail Builders Network
The Trail Builders Network is Hike Nova Scotia's capacity building hub for trail groups, First Nations and municipalities that build and maintain hiking trails.
Hike NS represents the largest group of trail users on our trails and we also represent trail building groups. In order to support the folks that make the trails we use possible, we're offering webinars and in-person trail building workshops. Trail groups, First nations and municipalities that become
Hike NS group members
can take webinars for free and trail building workshops at reduced rates. We'll also keep you in the loop about news, funding and other things trail builders should know.
Fundraising for Trails Online Discussions: Sept. 27 or 28
Check out our Fundraising for Trails online discussions on September 27 or 28, for those who volunteer or work building, maintaining and/or fundraising for hiking trails. These events are free!
Learn more and register here
In-Person Trail Building Workshops
Trail Workshop: Bridge Replacement and Show & Tell: Sept. 17, Earltown
Do some hands-on learning by helping to replace a bridge and learn how work was done on the Gully Lake trails, get tips and share ideas.
Learn more and register here
Trail Stewardship Workshops - Oct. 23, Oct. 29, Nov. 20, Timberlea
Is your trail system experiencing damage and wear and tear from trail users? Learn about a successful program that engages trail users in becoming trail stewards to help reduce harmful impacts on trails.
Learn more and register here
Trail Closed Signs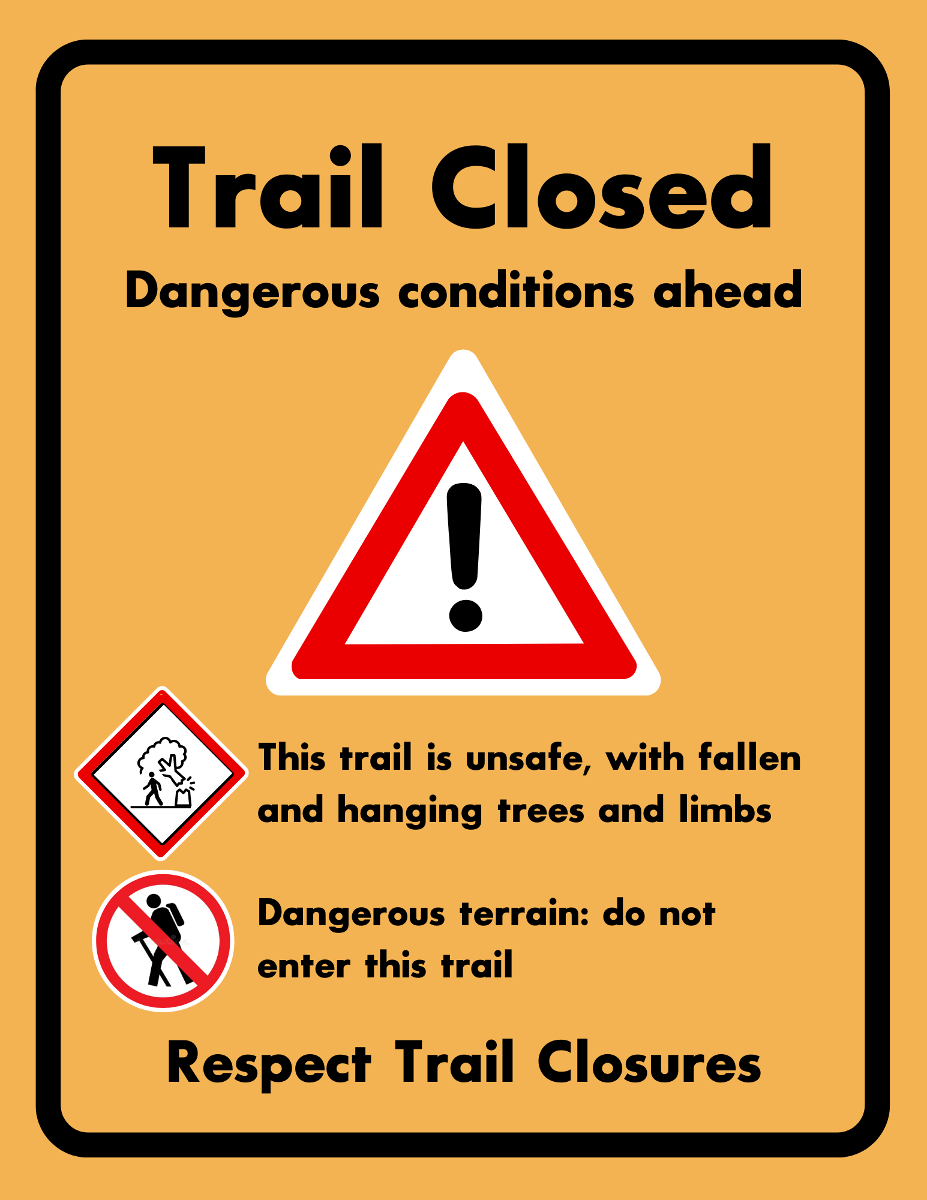 Here is a template your trail group can download and print and post on your closed trails.
Trail Closed sign PDF file
Trail Closed sign PNG file
Ideas for your Trail
Have a Volunteer Trail Building Day Coming Up?
Let Hike NS know if you have a volunteer trail building day coming up and we'll help promote it (try to give us at least a few weeks notice in advance).
Contact us
.
Great Nova Scotia Pick-Me-Up
Now is an excellent time to do a clean up on or near local trails.
Register a clean up and get free supplies
.
Webinar Series Available
Trans Canada Trail Webinar Series
: Access learning opportunities from trail sector leaders
American Trails Webinar Series
: Access live and recorded webinars on various trail topics
Funding
Disaster financial assistance for non-profits: Hurricane Fiona fund
Trans Canada Trail Funding Program
Infrastructure Canada Active Transportation Funding
NS Communities, Culture, Tourism & Heritage - Trail Funding
NS Communities, Culture, Tourism & Heritage - Community ACCESS-ability Program
HRM's Active Transportation Grants
NS 2022-23 Connect2 Funding Program
Natural Infrastructure Fund
(federal government)
Municipal Funding
(many municipalities provide funding to local trail groups, check with yours)
Community Health Board Wellness Funds
(not for infrastructure, more progamming)
Wage subsidies, summer jobs, interns and related funding sources:
Federal Government Funding for Jobs
Provincial Government Funding for Jobs
Clean Foundation
Eco Canada
Trans Canada Trail Youth Employment Program Wage Subsidy
CPRA - Canadian Parks and Recreation Association - Green Jobs
Nature Canada - Work to Grow
Project Learning Tree - Green Jobs