Re-Connecting with Nature
Re-Connecting with Nature Workshop
This is a one-day, hands-on workshop held mostly outdoors to improve your ability to lead and share an appreciation and understanding of nature with children and youth.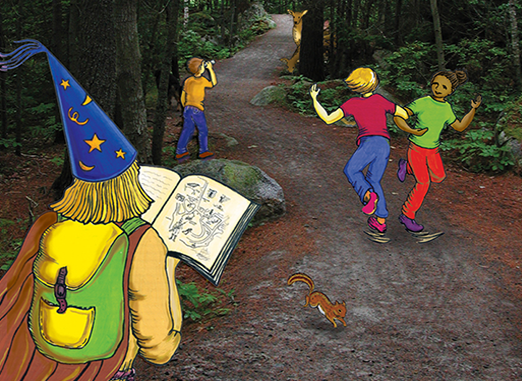 The aim of the Re-Connecting with Nature one-day workshop is to increase and strengthen the number adult leaders in NS who can help children and youth to spend more time appreciating, understanding and acting for the natural world while being physically active in the outdoors. The workshop audience is diverse and includes youth group leaders, recreation and camp staff, teachers, early childhood educators, parents and concerned citizens. It is offered through Hike Nova Scotia in partnership with the Nova Scotia Department of Communities, Culture and Heritage with support from Acadia University.
Workshop Goals
Participants in this workshop will have the opportunity to…
… understand the value and key concepts in reconnecting children and youth with nature.
… improve their skills in facilitating experiences in nature with others.
… identify valuable ideas, activities and resources for this work.
… have fun and get to know other resourceful people.
… strengthen networks of people committed to reconnecting others with nature.
Cost
The cost is $60 ($50 for members of Hike Nova Scotia). A reduced fee of $30 is available for parents not associated with an organization, for volunteer leaders working with youth and students. Registration includes a workshop manual and a one-year individual membership with Hike Nova Scotia for non-members (redeemable through a promo code sent by email). All participants must sign a waiver. Further workshop information will be provided upon registration. Participants are responsible for their own accommodation, meals and transportation.
View the Video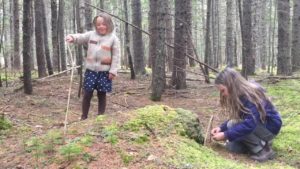 Get a sense of what the Re-Connecting workshops are all about with this
video
, produced by Acadia University students working as a part of the Department of Community Development on their senior core term community projects.
Register for a Workshop
Re-Connecting with Nature: May 26 Berwick
Register
Re-Connecting with Nature: June 16 Trenton, Pictou Co.
Register
Re-Connecting with Nature: September (date TBA - weekday), Truro
Registration coming soon
Re-Connecting with Nature: Oct. 12 Hubbards
Register
Other related workshops offered through other organizations include:
Connecting Children with Nature workshop series for adults with Halifax Recreation, Halifax: May 9, 16, 23, 30
Planning for Family "Screen-Free" Time with Halifax Recreation, Halifax: June 21
Cancellation Policy
Hike NS requires
three full days' notice
in order to reimburse anyone who wishes to cancel their registration. For example, if a course will take place on June 3, notice of cancellation by email or phone must be received by 5 pm on May 30 (allowing June 2, June 1 and May 31 as the three full days). Sometimes Hike NS must cancel a course due to instructor illness, low enrollment or other unforeseen circumstance. If Hike NS has to cancel the course, you will be contacted at least a day in advance and will be fully reimbursed.
Help Promote
Please help promote these workshops by cutting and pasting these
write-ups for emails, online and social media
(Word file). Or download and print this
flyer
. Thank you.