Speak Up for Trails: Election
Our trails were there when you needed them most
Now our trails need you
During the Nova Scotia provincial election,
challenge candidates to speak up for trails
Our trails were there when you needed them most during the pandemic. Now our trails need you. During the provincial election, please speak up for trails. Challenge the candidates in your electoral district. Let them know you love our trails and they deserve more investment. Ask them how they will support trails if they are elected. Election day is August 17, 2021.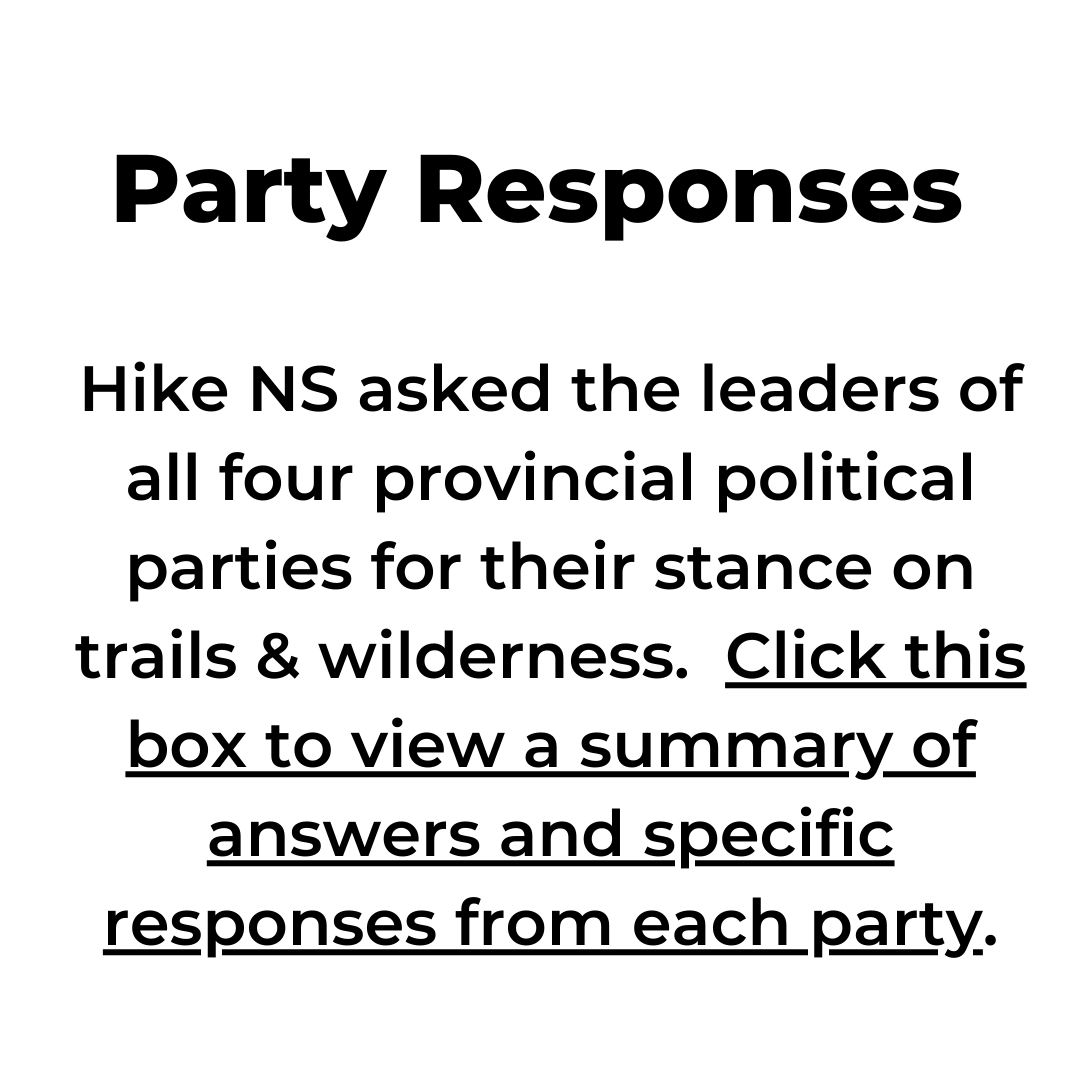 Email the candidates in your electoral district or challenge them if they show up at your door:
Find your electoral district
List of candidates per district
Find contact information for candidates in each party here:
Green Party of Nova Scotia
Nova Scotia Liberal Party
Nova Scotia New Democratic Party
Progressive Conservative Association of Nova Scotia
Ideas to Consider Including in Your Email
Feel free to copy and paste and then tailor with your own ideas
Suggested email subject line
:
Speak Up for Trails: Where do you stand?
Suggested email text
:
Please remember to copy info@hikenovascotia.ca when you send your email
Since you are a candidate in my electoral district, I am writing to see where you stand on the issue of trails and wilderness.
I hike because
[please insert why you hike, for example: it makes me feel good, to get some physical activity, for my mental health, to connect with friends and family, to enjoy nature, etc.]
. I love our trails and think they deserve more investment. Trails should be a spending priority.
Many of our trails in parks and protected areas are at risk due to lack of funding to properly maintain them. Many of our local community trails are managed by volunteer groups who are struggling to keep up with their maintenance. Wilderness areas are under threat and need protection.
1. What is your favourite trail in our district?
2. How would you support volunteer, community-based trail groups in our district?
3. Are there areas in our district that you feel should be protected?
4. Are you in support of increased funding for trails and related infrastructure in parks and protected areas?
5. How would you ensure that the provincial
Shared Strategy for Trails in Nova Scotia
is well-funded and fully implemented? The strategy includes:
Ensuring provincial government contributions to trails are efficient and effective
Diversifying, enlarging and stabilizing the financial base for trails
Securing access to strategic lands and waterways for trails
Promoting our trails
Thank you for your consideration.
Sincerely,
[insert your full name and community]
Thank you for speaking up for trails!
Help promote Speak Up for Trails
Please help promote our Speak Up for Trails campaign by using the social media images below and the text to go with them on your own social media accounts. Please use the hashtag
#SpeakUpForTrails
on social media where appropriate!
Facebook image
Twitter image
Instagram image
Text for social media
Media
News release:
July 26, 2021:
Hike Nova Scotia asks candidates to support trails